This is a short discussion signed by P. Hench about the article of Ralph Herz about the herniation of subfascial fat. Hench comments that Dr. Herz has presented the first public confirmation of the recent work of Copeman and Ackerman (1944). He comments on the differences between Great Britain and America, the scepticism of America about the entity called fibrositis or fibrositic nodules or subfascial fat herniation.
Notes about the article:
HENCH P. S.
Discussion of the paper by Ralph Herz: Herniation of subfascial fat as a cause of low back pain.
Ann Rheum Dis. 1946 Dec; 5(6): 204.
PubMed PMID: 20242354.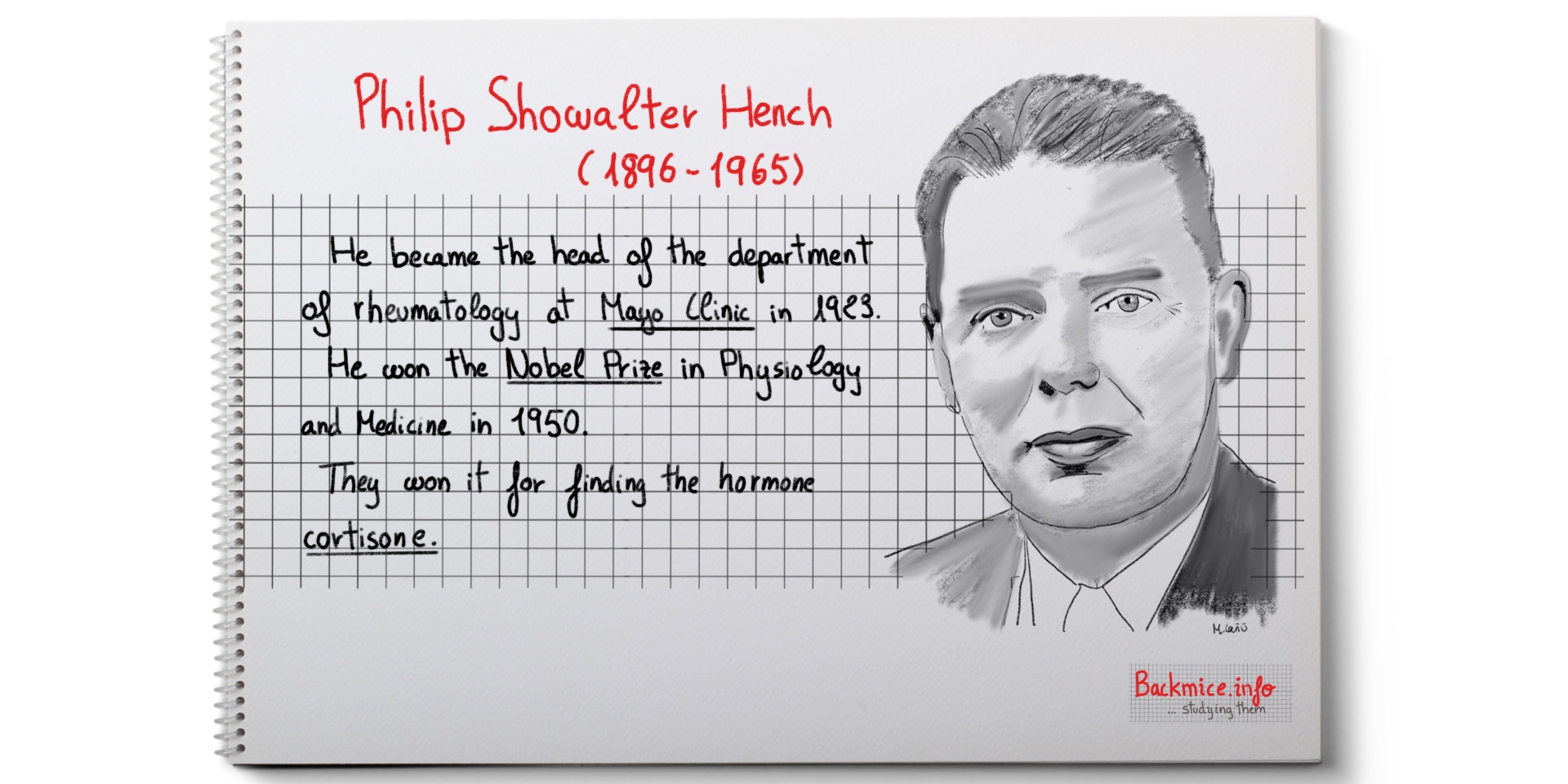 Philip Schowalter Hench, a well-known rheumatologist from de Mayo Clinic, published this article in 1946 in the ANNALS OF RHEUMATIC DISEASES, as a DISCUSSION after the article published by Ralph Herz (→1946 Herz), and also commenting a lot of the coetaneous work of Copeman and Ackerman.
Hench starts saying that Dr. Herz has presented the first public confirmation of the recent work of Copeman and Ackerman (1944).
The author makes a reflection that many students and doctors do NOT REALLY KNOW: What is the pathology of acute lumbago, acute or chronic muscular rheumatism or acute wry neck? Nevertheless, some doctors have been, and still are, intrigued by knowing about it.
He comments on early relevant works…
-In 1816, William Balfour, an Edinburgh physician, described that in chronic muscular rheumatism there are definite FIBROUS THICKENINGS, painful on pressure, and that pain could shoot to neighbouring parts.
-Later, William Gowers, considering this underlying pathology, coined the term fibrositis instead of myositis, since the muscle cells themselves showed no pathological alteration.
-In 1904, and later, in 1920, Stockman studied "these fibrous thickenings".
He comments on the differences between Great Britain and America, the scepticism of America
Hench and Dr. Slocumb (his colleague) had tried to have the interest of American physicians, at least in the CLINICAL SYNDROME OF FIBROSITIS , but they two recognized little knowledge and certain scepticism among certain American rheumatologists, due mainly to the fact that physicians have been unable to feel or isolate surgically the "fibrous thickenings". Some people talk about "the fibrositic nodules as being accessible only to the fingers of faith",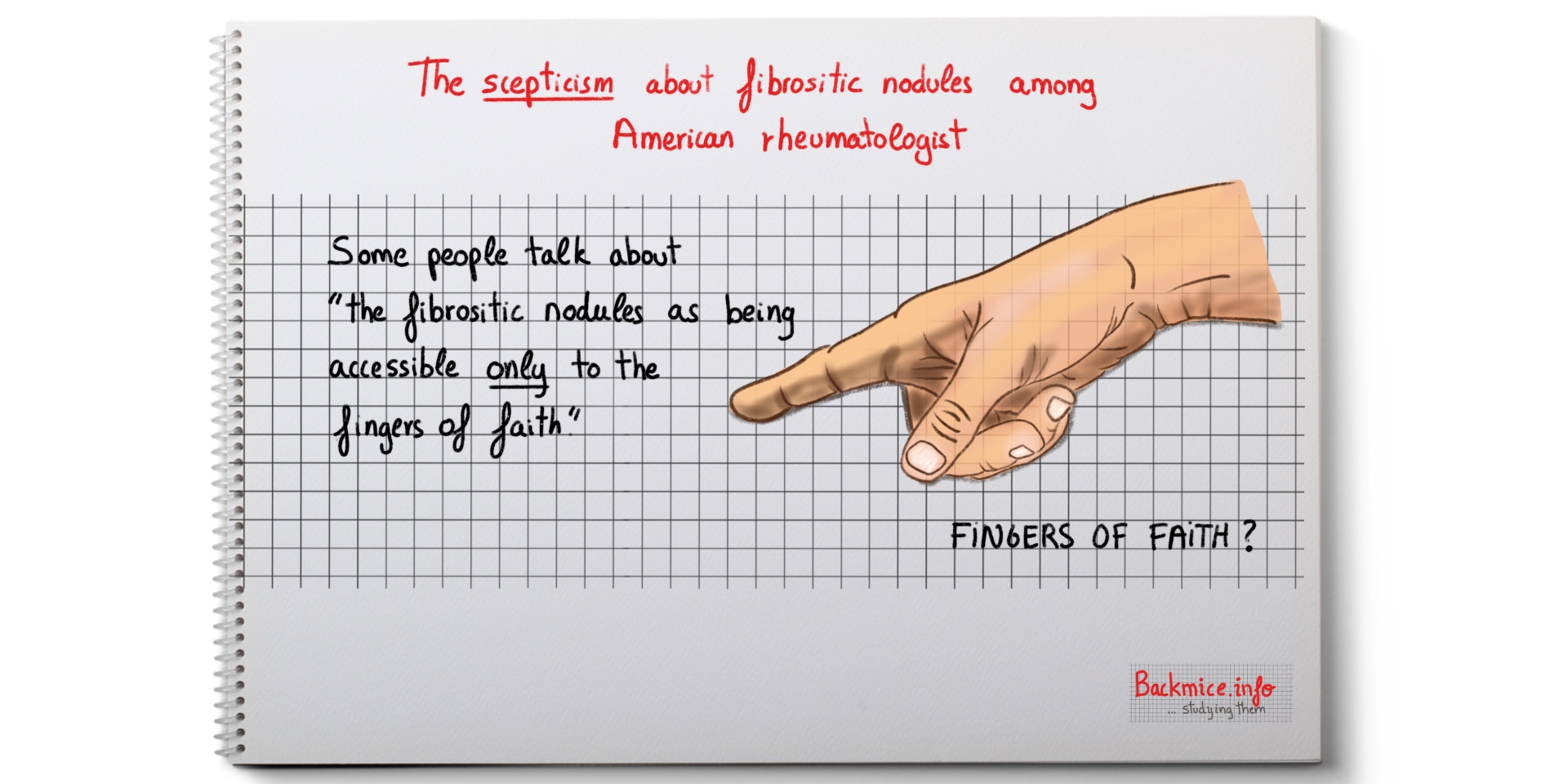 or they state that "fibrositis is a disease which English physicians talk about but which American surgeons and orthopaedists cannot confirm".
Description of the "thickenings" related to fibrositis. Fibrous indurations have been described as (there aren't any references)
–non-nodular: bands, tracts, and sheaths
–nodular: large nodules -in fibrous aponeuroses-, small nodules -in muscle-, and "myogeloses" -in muscle negative on biopsy representing chemical contractures.
Hench "disappointing" personal investigation
–Hench admits he is personally disappointed and puzzled. He had had many disappointments when trying to find the "classical fibrositic nodules" (especially in cases of painful backs with negative radiographs). Sometimes he felt "nodules" but on biopsy found nothing very impressive.
On many occasions, he felt nodules, singly or in clusters, in the pre-sacro-iliac region, small or large enough to push out the overlying skin. Sometimes they were fixed, sometimes they were movable. Some were painless and some tender.
They asked Dr. Ghormley and his colleagues to remove some that were tender. They found lumps of normal looking fat. Sometimes the patients' symptoms were relieved, sometimes they weren't. They were puzzled because dissections were too limited.
Sutro's investigation, missing the boat
–Hench states that in 1935 Sutro "missed the boat". He studied 170 unselected patients from hospital. He found subcutaneous fatty nodes in the sacro-iliac region in 94 patients (22%). One third (33) had low back pain. Some nodules were tender while others weren't. Sutro removed some of the nodules and found no pathological alteration. Some patients improved and some didn't. He concluded that the fatty nodules were unrelated to the symptoms. He passed them off as merely protective buffer pads.
Notes about Copeman, Ackerman, and Herz investigation: the nodules are herniation of subfascial fat!
-Thanks to the work of Copeman, Ackerman, and Herz they now know much more about these fibro-fatty nodules.
-They are quite common.
-When they are tender, then pressure thereon reproduces the patient's complaints.
-Treatment may relieve many heretofore misunderstood and unrelieved backaches.
-Copeman and Ackerman described that the nodules can be subfascial fat herniations of 3 types: non-pedunculated, pedunculated, and foraminal.
-Copeman and Ackerman said that some fat lobules could become painful by oedema without presenting any herniation (as in certain cases of painful panniculitis).
–Non-painful nodules. Sometimes "fairly large painless fatty nodules without current backache" can be found; they could be harmless residues of old, unremembered occurrences of backache.
–Tender nodules. They could be small fat herniations, non-herniated fat lobules under tension or "true subcutaneous fibrous nodules".
–Movable nodules. If they are fairly large and movable nodules, they are probably herniation of subfascial fat.
-Despite the patient can have more than one condition, if pressure of the nodule reproduces the patient's complaint, one may hope its treatment will cure the patient. To confirm the diagnosis, Copeman, Ackerman, and Herz apply a therapeutic test of injection of novocaine. The disappearance of pain is considered as a positive test and confirmation of diagnosis. A negative test can be merely an injection inaccurately placed.
-The treatment of fat nodules or herniation of subfascial fat need not necessarily be surgical. Coperman and Ackerman removed them for clinical demonstration and indicated that there could be less drastic measures. Note that Herz operated only 37 of the 109 cases.
-HEAT, MASSAGE, and MOTION as first option treatment. Heat may increase blood supply and reduce congestion, oedema, and tension in the fatty lobules. Massage may reduce oedema or even break up investing pressure-producing fibrous tissue. Movement after injection may reduce the protrusion "spontaneously" in case of acute lumbago, presumably due to a sudden herniation of a fat lobule.
Hench's fears: the impatient surgeons
–The need to be conservative. The patients should be treated conservatively (heat, massage, movement, injections), but impatient surgeons will probably decide "OUT WITH IT"! , and treat them surgically (which should be reserved to selected or stubborn cases to save time and money).
–Interesting new "teasing" technique of Copeman and Ackerman. They do not remove the nodules, instead they "tease" them surgically with a special cutting needle in order to disintegrate the nodule and relieve the tension.
Hench's final reflection: "the parallelism of herniations": herniation of subfascial fat vs herniated disc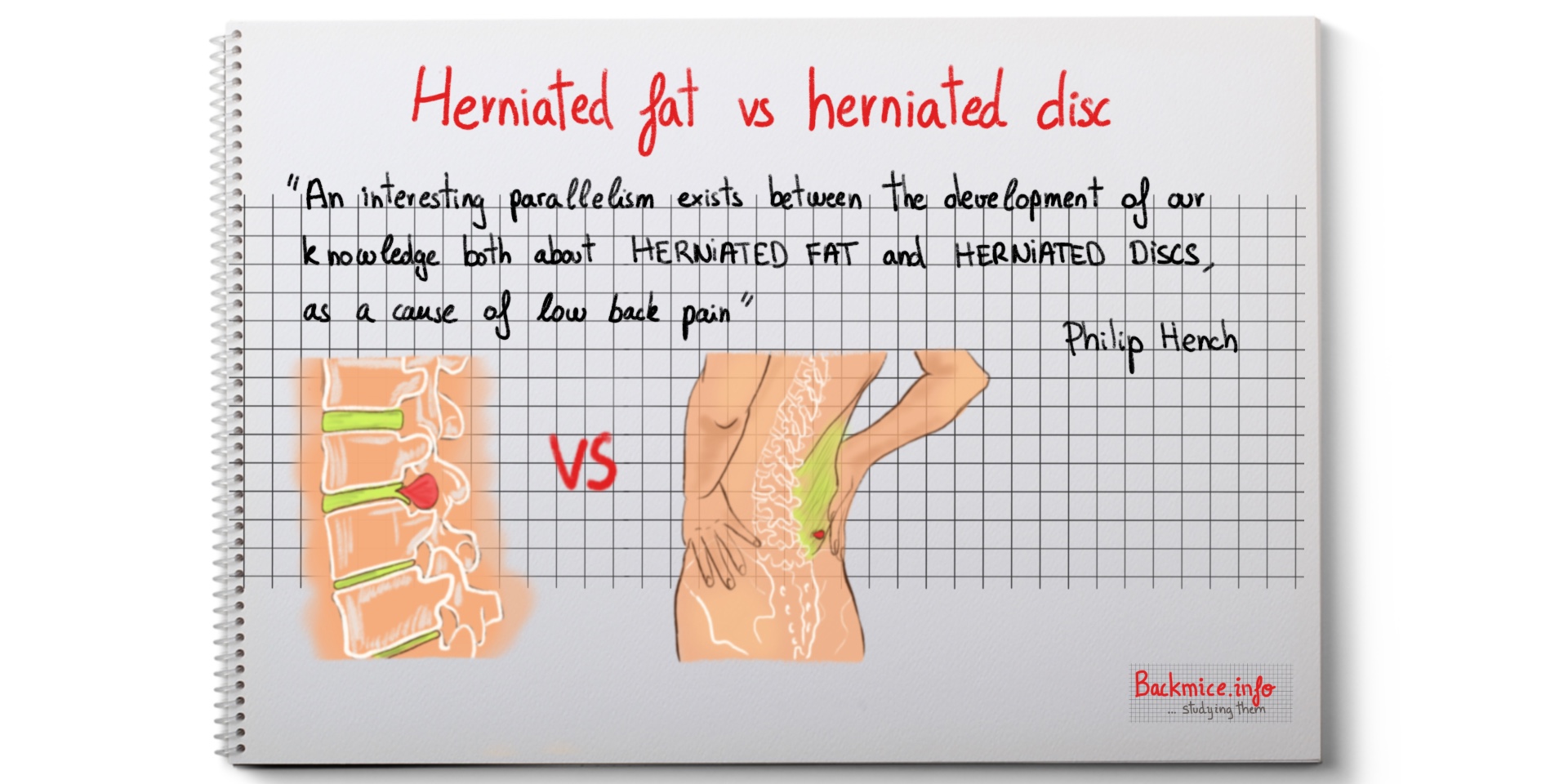 It exists an interesting parallelism in the development of the knowledge between the HERNIATED FAT and the HERNIATED INTERVERTEBRAL DISCS as a cause of low back pain. In both instances the ectopic material was removed before being aware of the exact pathological mechanism. Herniated discs were over-enthusiastically accepted as the cause of most backaches, and were later regarded with disillusionment and undue scepticism as a minor cause of backache. It is much to hope that these "new" fat herniations will be "handled temperately" and not removed uselessly and over-enthusiastically. Nevertheless, it is premature to say that all the tender nodules explain most cases of "fibrositis".
contact@backmice.info
References
Hench PS. Discussion of the paper by Ralph Herz: herniation of subfascial fat as a cause of low back pain. Ann Rheum Dis. 1946 Dec;5(6):204. PubMed PMID: 20242354.
Herz R. Herniation of subfascial fat as a cause of low back pain; report of 37 cases treated surgically. Ann Rheum Dis. 1946 Dec;5(6):201-3. PubMed PMID: 20242353
Copeman, W.S.C. and Ackerman, W. (1944) . Quart.J.Med. 13,37.
By Marta Cañis Parera