Hard Knots in Lower Back?
Recently, and thanks to an email from one patient, I have realized that the fact that back mice are so UNKNWON by the medical community, even nowadays, makes the search for information about them a hard task. When patients and even doctors try to search information about the nodules by googling, they have to describe them in many different ways, as best they can.
Since in most of the cases we don't know a proper "medical" term to search information about these intriguing painful nodules, people use several descriptions such as: hard knots in lower back, painful nodules in the lower back, painful lumps in low back, painful fatty lumps, and painful lumbar lipoma, among others.
This reminds me of my own experience, back in the summer of 2017 when I was trying to find out about these mysterious painful knots in the back because my husband started complaining about backache. Although I am a doctor myself, I had to use these descriptions to find a hint about what they could be. My first attempt was to type the words bultos dolorosos en la espalda (painful lumps in the back), and hope to find information about these nodules on the net. At the beginning, this search led me to some blogs about chiropractic massage that included some medical references and, since then, I have found many more medical articles, and that's why I am sharing this useful information in this web page.
The fact that there are so many names to describe this entity shows that it is still really unknown, and every person that discovers them gives them a different name: edematized subfascial fat herniation, fibrositis of the back, episacroiliac lipoma, sacroiliac lipoma, cellulite nodule, xanthoadipose nodules, nodolo di Copeman, fibro-fatty nodule, hernia del panniculo adiposo, BACK MOUSE OR MICE…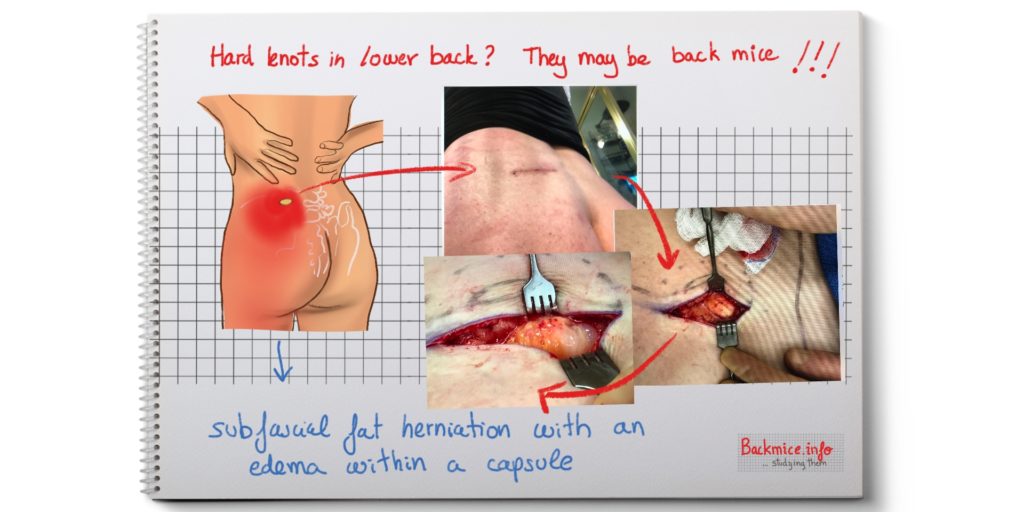 The purpose of this web page is providing both doctors and patients with relevant medical information in a clear way. We hope it helps to move forward!
Published in January 2019 by Marta Cañis Parera