*We have published a review about back mice: you may access a free on line pdf in the following link → Historical Review of Studies on Sacroiliac Fatty Nodules (Recently Termed "Back Mice") as a Potential Cause of Low Back Pain. Cañis Parera et al. Pain ther (2021).
This is a poster (written in Catalan) about the SEO Google analysis of this webpage 10 months after its creation (March 2018). Our aim as a research group with www.backmice.info is to share as much information as possible related to the back mice entity, hoping that this would lead to move forward in the study and the knowledge about it in order to help the patients. We are convinced that our web page is a useful tool for our purpose and, by organic Google positioning, we try that the web is easily reachable for medical doctors, patients and other researchers.
Introduction: We are currently investigating a medical entity (back mice), which, for several reasons, is UNKNWON to the vast majority of doctors. Many patients who suffer from this disease use GOOGLE to look for information when they see doctors have NO answers.
Objective: Our objective was to create a rigorous, scientific and free-access WEB PAGE to share information with patients, doctors and other researchers.
Methodology: In March 2018 www.Backmice.info was created. SEO (Search Engine Optimization) techniques have been used to ensure that the website has a good organic positioning with the selected "key words". We use Google Analytics to check and analyze how many users consult the web page and we use Google Search Console to analyze organic positioning of the web. We have created a blog to discuss scientific articles. In addition, we have an email address open to the web's users to contact us.
Results: Currently, the web page has a good organic positioning on Google. In a few months, the page already had more than 1,500 users who had consulted the page with an average duration of more than 1.5 minutes each session, thousands of impressions with more than 2,500 clicks (CTR Click through rate of 2.5%), and an average position of 9.5 for the web in Google search.
We have had contributions to the blog and emails from patients who have specifically thanked us for the information that they were given.
Discussion and conclusions: In 10 months, since its creation (March 2018), we believe that www.backmice.info is a useful tool according to Google SEO analysis.
In the times of new technologies, the patients play a determining role in helping themselves to ensure their health.
Graphic 1: Number of users per day between April 2018 and January 2019 (10 months). A total of 3,164 users of whom 2,450 consult the web page www.backmice.info through an ORGANIC search. An average of 2 pages per session and 2:30 minutes of average duration. The growing tendency of numbers of users can be observed.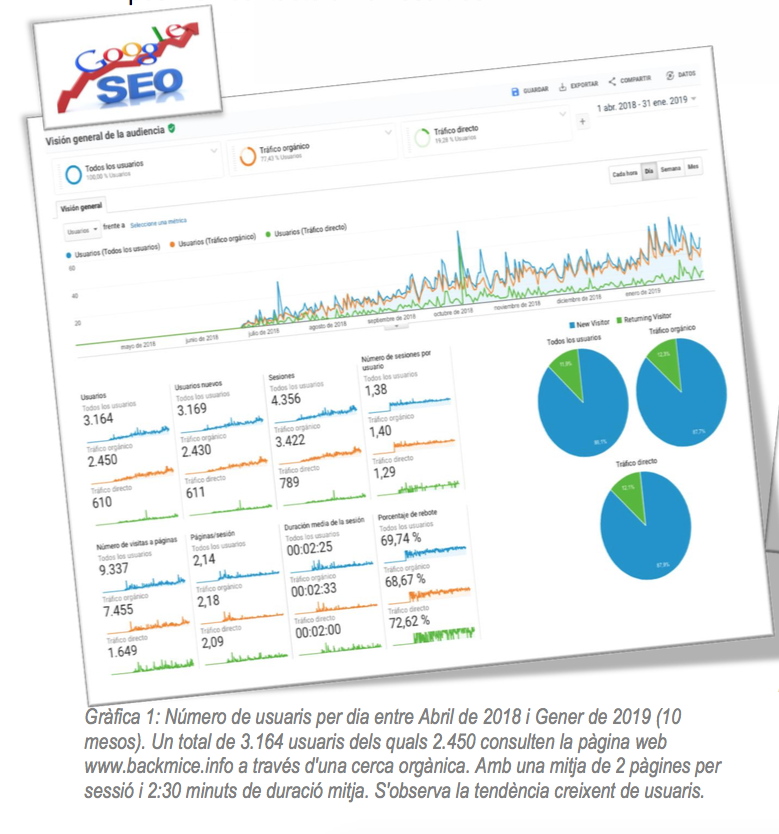 Graphic 2: Numbers of clicks and impressions between April 2018 and January 2019. More than 2,100 clicks with thousands of impressions for keywords, for web and images (especially back mice and episacral lipoma). The average CTR is 2.6% and average position is 9.7.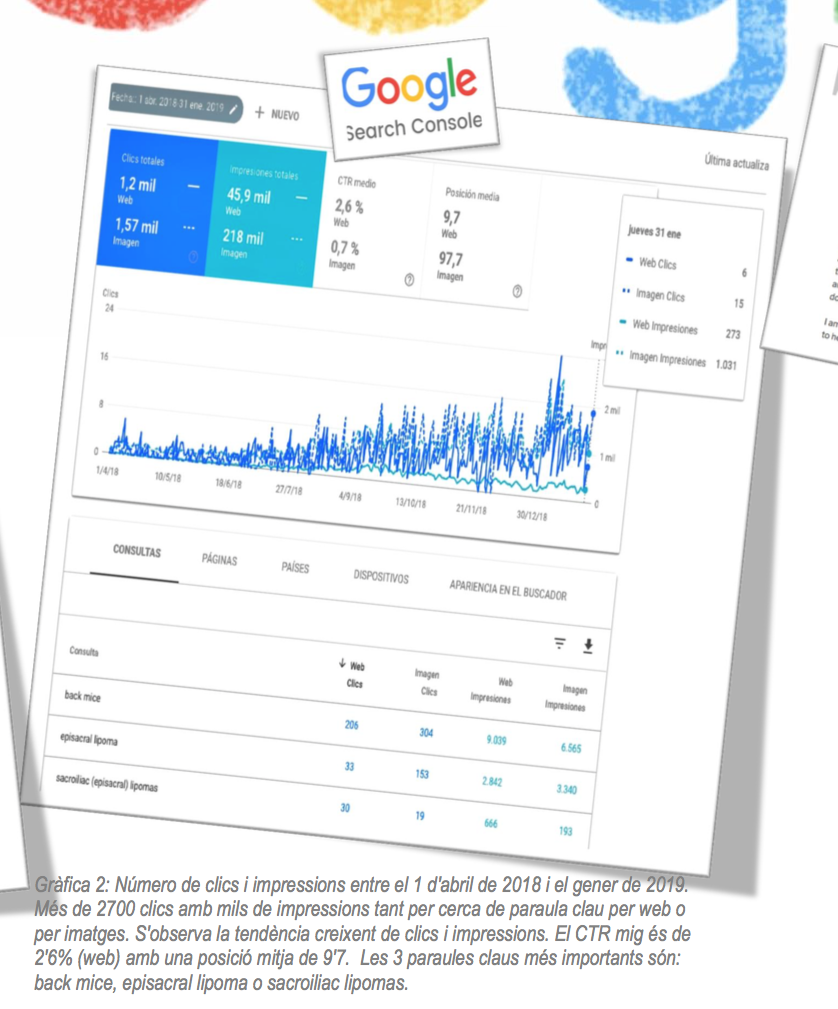 Map: In blue, the distribution of total users for 10 months. In orange, the distribution of recurring users (13%) with an average duration of 4:24 minutes per session and an average of 3 pages per session.