This is a short article from 1949 about the entity called episacroiliac lipoma (also known as back mice) that is a lipoma in the lower back related to low back pain.
Notes on Hittner's article:
Episacroiliac Lipomas
J. Hittner, 1949
Seymour, Wisconsin
It has just 3 references: Ries, MacDermot and HOFFMAN (however, he does not refer to them in the text).
First, Hittner summarizes the clinical picture of the episacroiliac lipomas. Later, he presents his results of 50 cases that he managed with local infiltration with three different drugs: novocaine, cyclopropane and penthotal before surgery.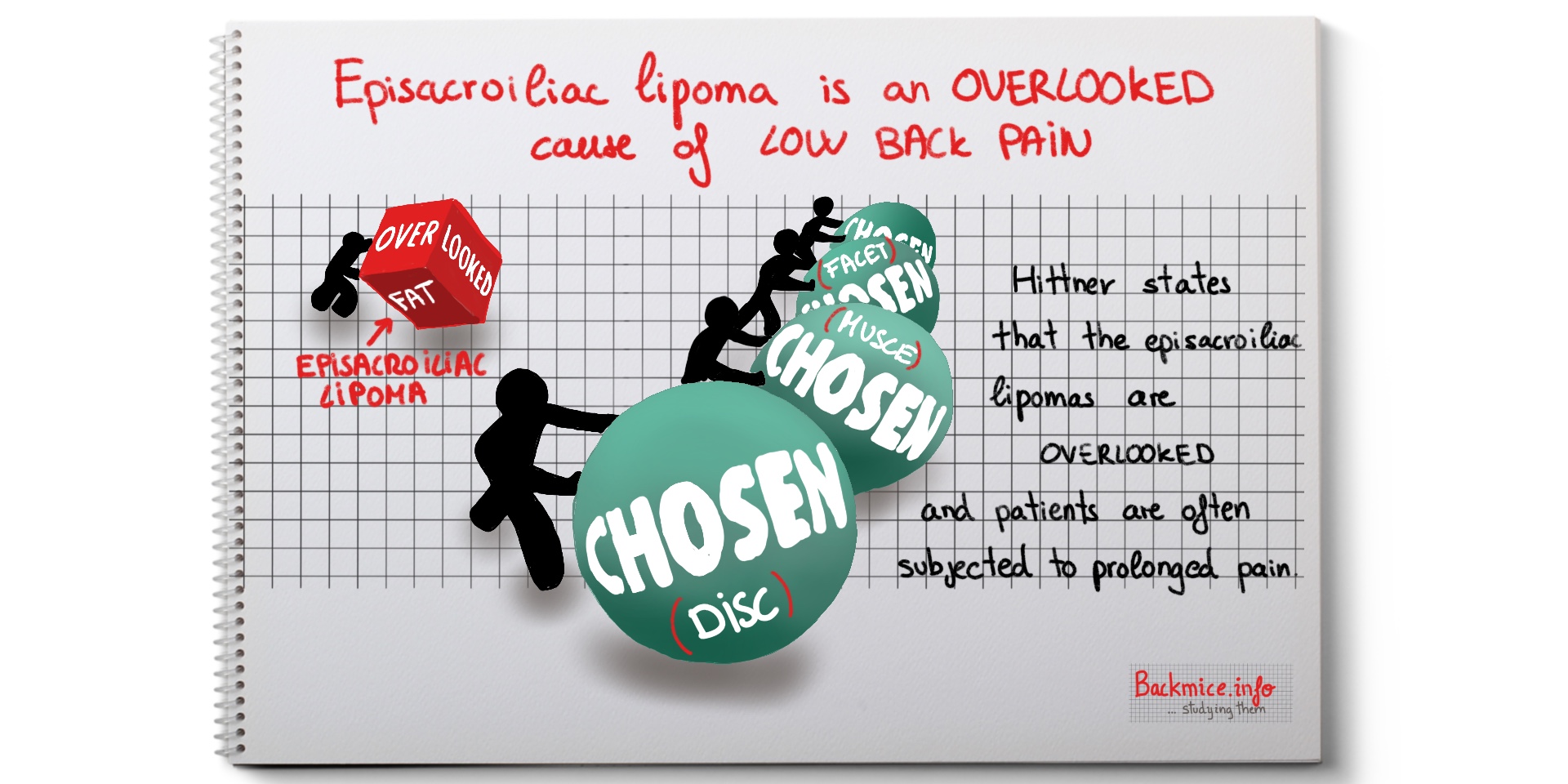 The overlooked lipoma in the lower back or episacroiliac lipoma
He states that the episacroiliac lipomas are OVERLOOKED.
Hittner starts saying that the episacroiliac lipomas can be a cause of back pain that can be easily OVERLOOKED. Because of this, patients are often subjected to prolonged pain, needless radiography and, at times, unnecessary surgery without relief of the symptoms.
The clinical picture of the lipoma in the lower back
The diagnosis is based once other causes of back pain have been ruled out and, then, a small tumor is palpated in the sacroiliac region that on pressure elicits exquisite pain. The pain can radiate to other regions, usually to the thigh. Sometimes it causes limping.
The pain sometimes does not seem aggravated by work, but rather by sitting or TURNING IN BED. Patients usually describe it as an ache. It is usually present for a period of YEARS rather than MONTHS.
Palpation is the base of diagnosis
Palpation discloses a rather small, elastic, rubbery mass, very tender and freely movable near the sacroiliac joint. It is usually located deeply against the bone. Pressure can elicit local or radiated pain to different directions.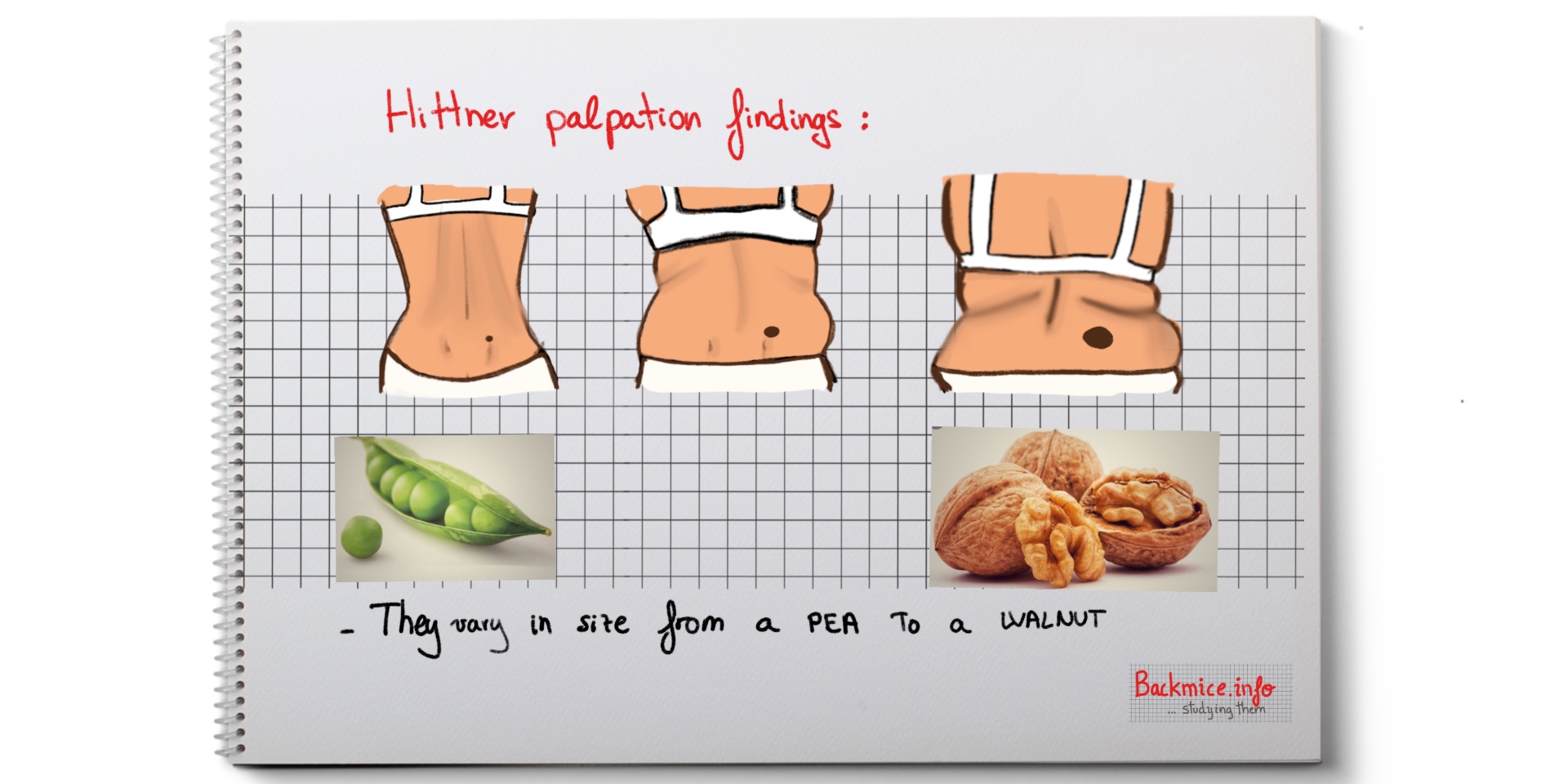 There are

one or two nodules

usually within 3 or 2 inches of the sacroiliac joint.
They vary in size from a pea to a walnut. Lipomas are rounded, cylindrical bodies that measure from 1 to 5 cm in diameter, and 1 cm in thickness.
More frequent in female than male.
More usually bilateral than unilateral.
At times only one of the tumors is painful.
Sometimes one

tumor

is larger than the other.
Microscopic findings
The lipoma in the lower back consists of fat tissue with very little connective tissue between fat cells and a capsule of denser fibrous tissue.
Nerve fibers are present in some.
Treatment of the lipoma in the lower back
An injection of 1% novocaine gives relief, sometimes permanent. The injection has a diagnostic value. In persistent cases they do surgical removal.
Surgical technique
Surgically they do a transverse section under local anesthesia. The tumors are enucleated and deep dermal tension sutures fill in the dead space.
The patient is usually hospitalized for 1 or 2 days.
Hittner results in 50 studied cases
-They had 50 cases: 36 female and 14 male. (Ages: 24-61, average: 35)
-35 bilateral pain vs 15 unilateral
-Duration: 7 months vs 7 years (average: 18 months)
-1% novocaine in 29 cases,
-Cyclopropane in 14 cases
-Sodium penthotal in 7 cases
-Relief obtained in 45 cases (the 5 cases could be from other pain source or in difficult obese patients).
Published in May 2018 by Marta Cañis Parera
References
HITTNER VJ. Episacroiliac lipomas. Am J Surg. 1949 Sep;78(3):382. PubMed PMID: 18139061.
MAcDERMOT, J. H.: Sacro-iliac Lipomata. Bulletin of the Vancouver Medical Association,18: 185,1942
Reis E. Episacroiliac lipoma. Am J Obstet Gynecol 1937;34:492-8