Peter Curtis, M. D.
In Search of the "Back Mouse"
J Fam Pract. 1993 Jun; 36(6): 657-9. PubMed PMID: 8505609. ISSN 0094-3509. From the Department of Family Medicine, University of North Carolina, Chapel Hill.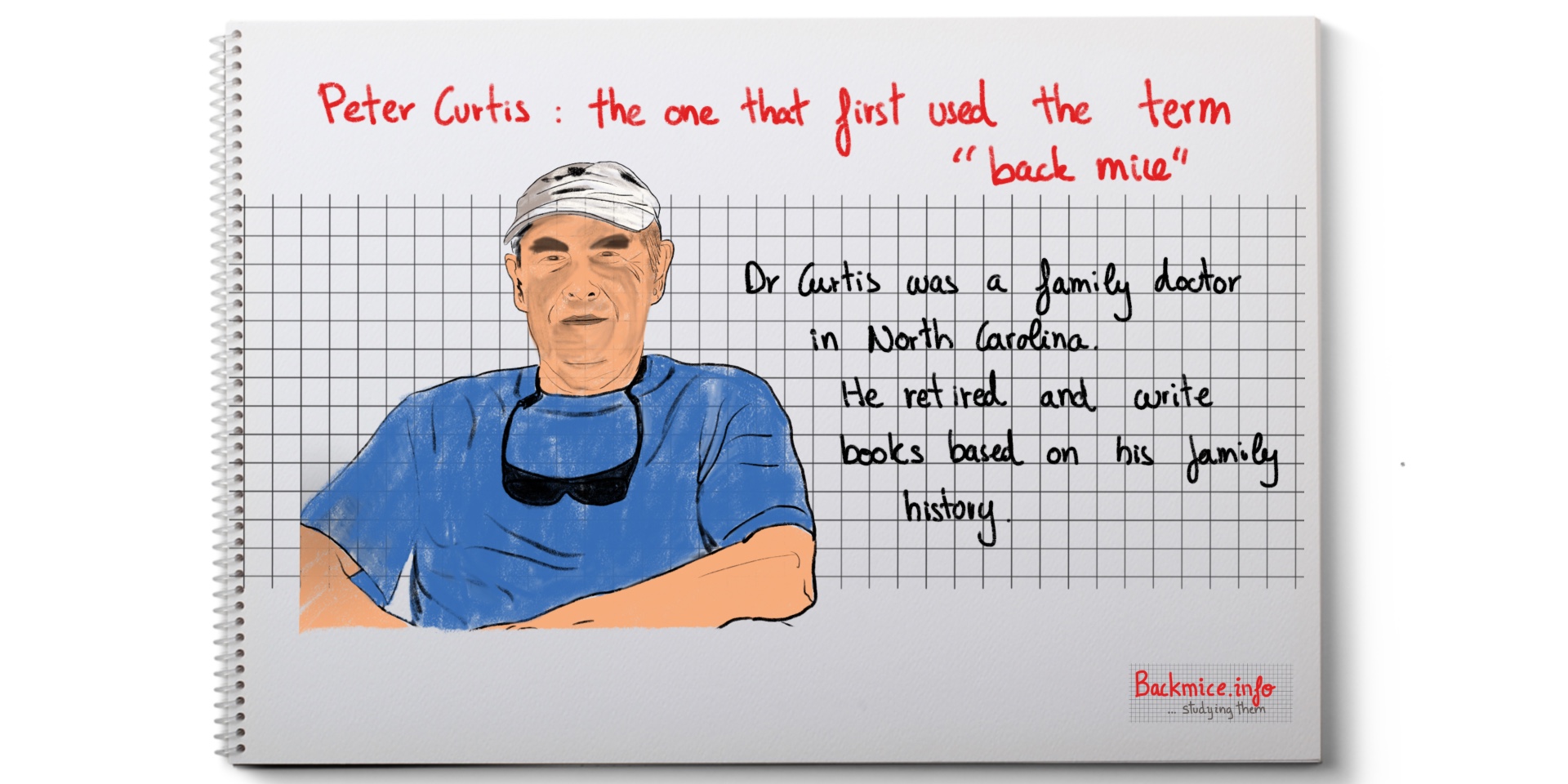 Peter Curtis has been the first author to use the term "back mice" to name the fibro-fatty nodules of the low back.
Peter's background
He was a family doctor and teacher at the University of North Carolina, in Chapel Hill. When he retired, he published an article titled "Treasures in the Attic". (in The British Journal of General Practice, 2004), where he explained that back mice were his "clinical pearl", his "treasure".
Peter's description of "back mouse"
The "back mouse" is a tender, fibrous, fatty subcutaneous nodule found in the lumbosacral area in up to 16% of people. It can be a treatable cause of low back pain that may be unrecognized.
Curtis comments on the "fustrating low back pain"
Low back pain often can frustrate patients and physicians.
Different specialists focus on different aspects of low back pain:
Orthopedists are mainly interested in vertebrae, discs and joints.
Neurologists, in lumbosacral nerves and myopathies.
Rheumatologists, in inflammatory arthritis and immunological problems.
Curtis "invents" the name "back mouse"
He described "back mouse" as a nonfibrositic subcutaneous nodule. This name is due to its significant mobility under the skin or muscle, its rubbery consistency, and its ability to change size over time.
He talks about previous studies
-He mentions Emil Ries in 1937 (who called it episacroiliac lipoma), Copeman and Ackerman and Singewald.
Peter's findings
-He found back mice in 25% of women in routine examination.
-The nodules are often PAINLESS but they can become symptomatic.
Illustrative cases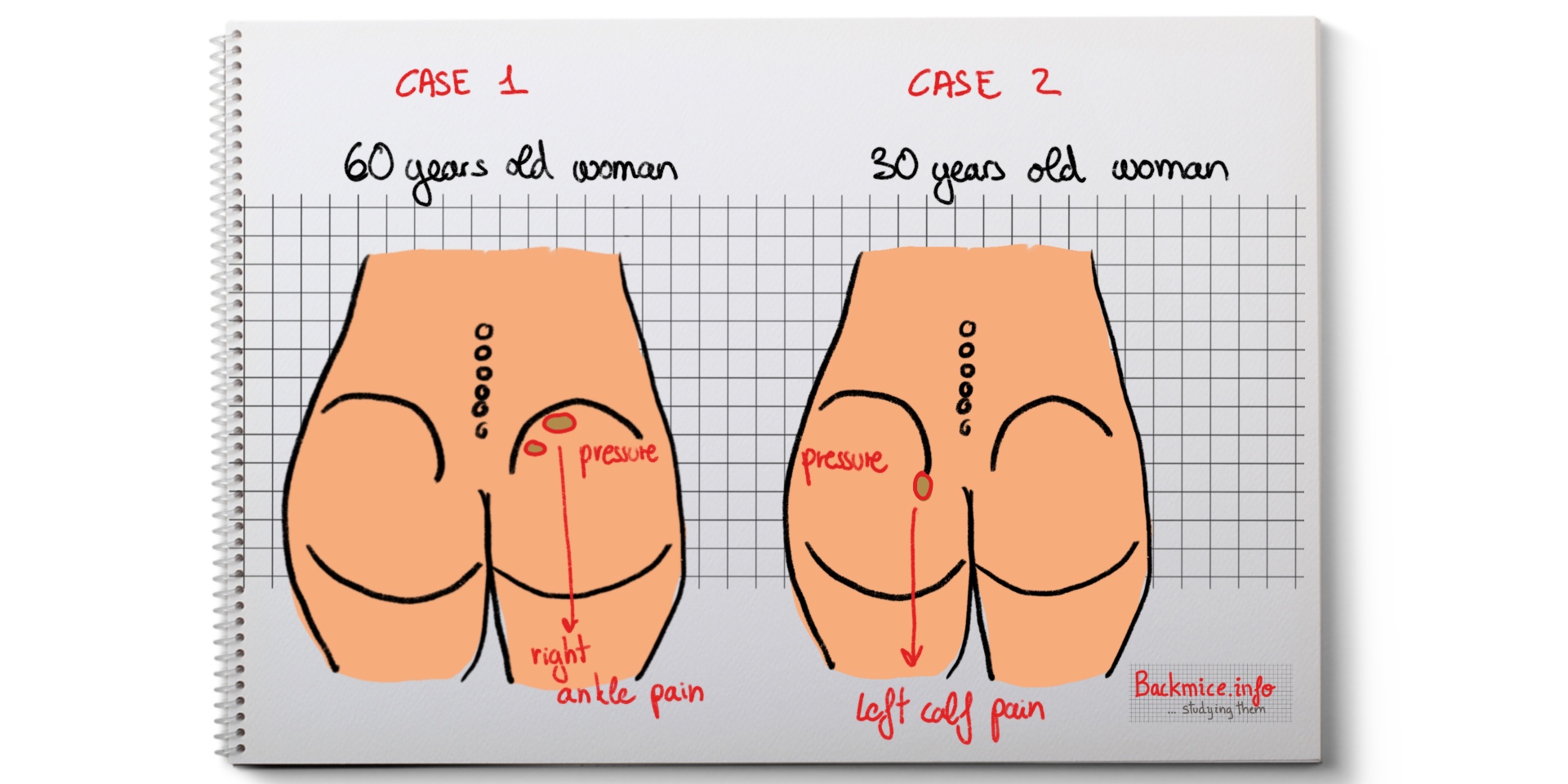 –Case 1: Woman, 60 years old. She presented pain in the right leg radiating to the foot 2 weeks after hip surgery. No hip problem was found. Analgesic provided little relief. Palpation on lumbosacral area revealed a VERY TENDER 2-cm mobile, rubbery nodule that was deep in the subcutaneous tissue. Direct pressure on the nodule produced severe pain in the right ankle. It was treated with needle punctures, which relieved pain within a few hours. Similar pain appeared four weeks later, which was treated in a similar way. Back mice became smaller and softer after multiple punctures.
–Case 2: Woman, 30 years old. Long-distance runner. Calf and back pain over 4 months. Palpation showed a grape-sized, deep exquisitely tender nodule. Direct pressure produced pain in calf. He did multiple punctures with injection 2ml of 1% lidocaine. She obtained relief by next day and there were no recurrences.
Curtis' back mouse notes
These

nodules

are different from myofascial trigger points, although locations may be similar.
They are said to be adipose tissue surrounded by a firm fibrous capsule.
They are distributed in a certain area (corresponds to the Copeman and Ackerman's "basic fat pattern")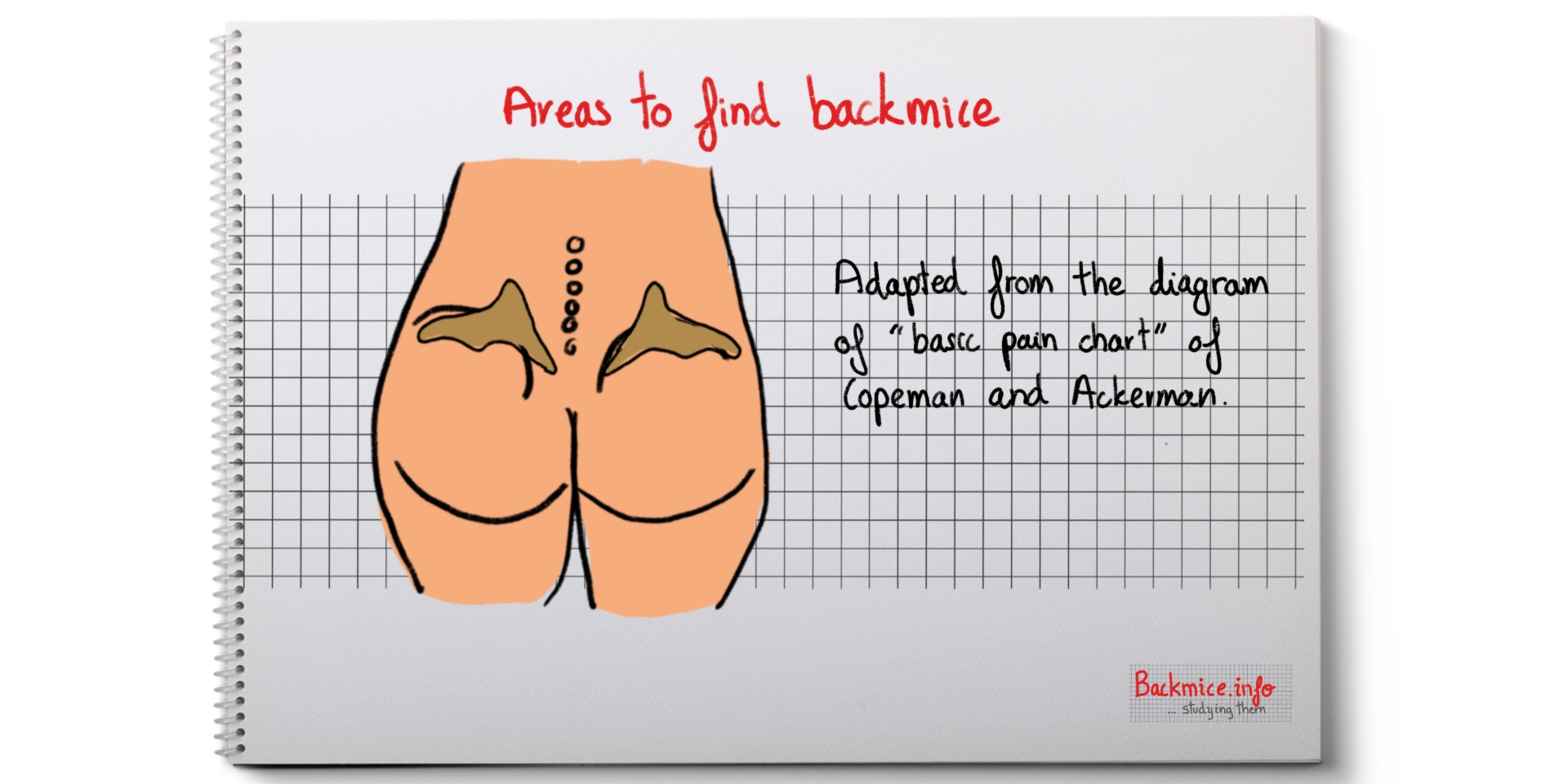 They can cause sclerotomal pain and confuse the clinicians into thinking that the problem is nerve root compression.
The

nodules

cannot be detected by visual inspection, since they lie deep.
They can be mobile.
Best palpatory technique: with flat surface of the fingers using firm pressure, NOT by a prodding palpatory finger.
Curtis disagrees with Swezey
He mentions Swezey's work, where he states that the problem is from underlying tissues and not the nodule itself. Curtis disagrees with Swezey.
Curtis' needling technique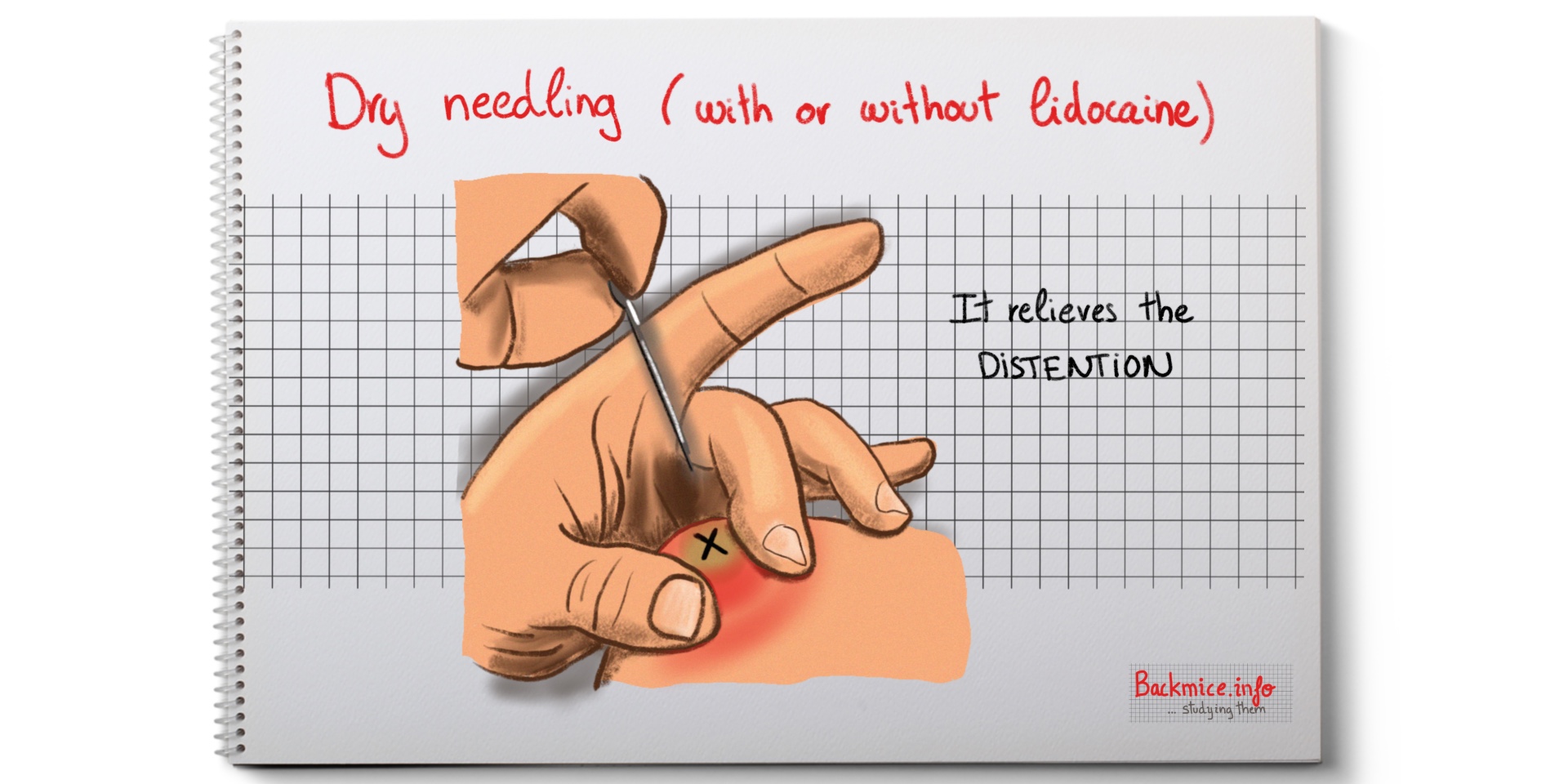 The pain related to distention can be relieved by DRY needling (based on Copeman and Ackerman's work). Some authors use lidocaine. After injection, firm pressure is maintained for 30 sec.
Curtis suggests that studies are necessary
No randomized controlled trials of the management of subcutaneous lumbar nodules have been made.
Curtis is aware that not enough current studies are done, and he finishes the article by saying:
"The back mouse, therefore, remains a clinical cause of back pain for some, and a nonexistent or unproven cause of back pain for others. I suggest clinicians search for these nodules and decide for themselves."
References
Curtis P. In Search of the 'Back Mouse'. J Fam Pract. 1993 Jun; 36(6): 657-9. PubMed PMID: 8505609.
Curtis P. Treasures in the Attic. The British Journal of General Practice. 2004; 54(503): 473.
Reis E. Episacroiliac Lipoma. Am J Obstet Gynecol1937;34:492-8.
Singewald ML. Another Cause of Low Back Pain: Lipomata in the Sacroiliac Region. Trans Am Clin Climatol Assoc. 1966;77:73-9. PubMed PMID: 4223124; PubMed Central PMCID: PMC2441105.
COPEMAN W. S., ACKERMAN W. L. Edema or Herniations of Fat Lobules as a Cause of Lumbar and Gluteal Fibrositis. Arch Intern Med (Chic). 1947 Jan;79(1):22-35. PubMed PMID: 20283861
Copeman W. S. Aetiology of the Fibrositic Nodule. Br Med J. 1943 Aug 28; 2(4312):263-4. PubMed PMID: 20785002; PubMed Central PMCID: PMC2284845.
Swezey RL. Non-fibrositic Lumbar Subcutaneous Nodules: Prevalence and Clinical Significance. Br J Rheumatol. 1991 Oct; 30(5):376-8. PubMed PMID: 1833023.
Published in May 2018 By Marta Cañis Parera