This is a retrospective CLINICAL STUDY about the undiagnosed peripheral nerve diseases (as cluneal neuropathy or common peroneal neuropathy) in patients that present the so called failed back surgery syndrome (FBSS) -patients that present persistent or recurrent symptoms after they have undergone spinal surgery.
The article warns that certain RADICULOPATHIES can present the same symptoms as certain PERIPHERAL NEUROPATHIES especially if they have the same segmental origin in the spinal cord. The lack of knowledge of these peripheral nerve neuropathies can lead to the wrong management of the patient.
SCN neuropathy presents similar symptoms to L1-4 radiculopathy.
CPN neuropathy presents similar symptoms to L5 radiculopahty.
They present a study to show a group of patients that after undergoing lumbar disc herniation surgery presented persistent or recurrent low back pain and/or leg pain, the patients successfully improved when they were treated with peripheral nerve blockages or neurolysis.
The article is signed by a group of neurosurgeons from Japan. Japanese researchers are publishing a lot about undiagnosed peripheral neuropathies.
Personal notes about the article:
Undiagnosed Peripheral Nerve Disease in Patients with Failed Lumbar Disc Surgery
Yamauchi T., Kim K., Isu T., Iwamoto N., Yamazaki K., Matsumoto J., Isobe M.
From the Department of Neurosurgery, Hokkaido, Japan
Asian Spine J. 2018 Aug; 12(4): 720-725. doi: 10.31616/asj.2018.12.4.720. Epub 2018
Jul 27. PubMed PMID: 30060382; PubMed Central PMCID: PMC6068418
Yamauchi et al. warn that the peripheral neuropathy symptoms can be similar to some radiculopathy symptoms related to spinal disorders (as lumbar disc herniation)
Lumbar degenerative disease is often treated with SPINAL SURGERY, like lumbar discectomy (because of lumbar disc herniation LDH). However, some patients that have been operated report persistent or recurrent symptoms. This is known as FAILED BACK SURGERY SYNDROME (FBSS). And it is usually attributed to recurrent disc herniation, epidural fibrosis, hematoma, segmental stenosis/instability, dural tear or psychosocial factors.

Some peripheral neuropathies elicit symptoms similar to those of lumbar spine disease, such as:
SUPERIOR CLUNEAL NERVE NEUROPATHY (SCN) presents as low back pain that can radiate to leg similar to spinal disorders that can cause certain radiculopathies (L1-L5).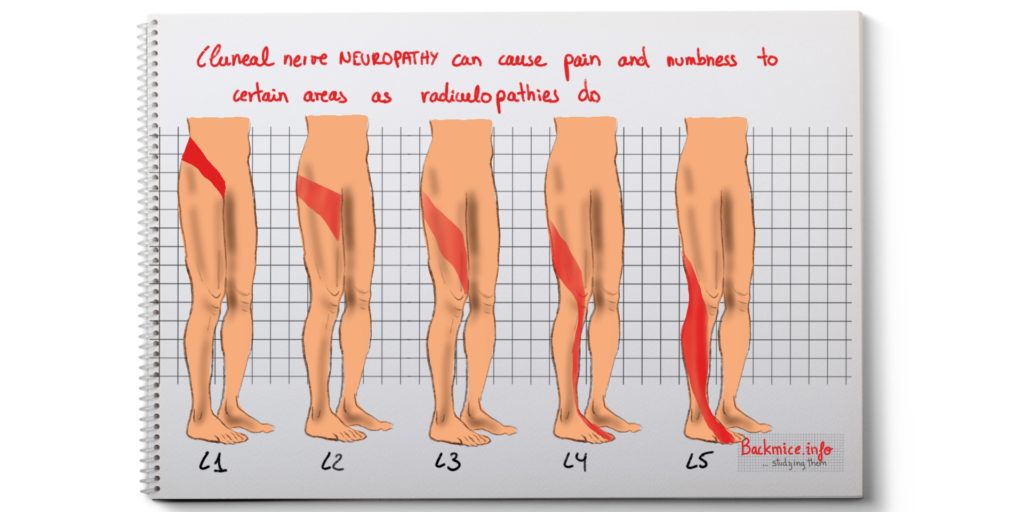 COMMON peroneal nerve neuropathy (CPN) with leg symptoms similar to L5 spinal disorders.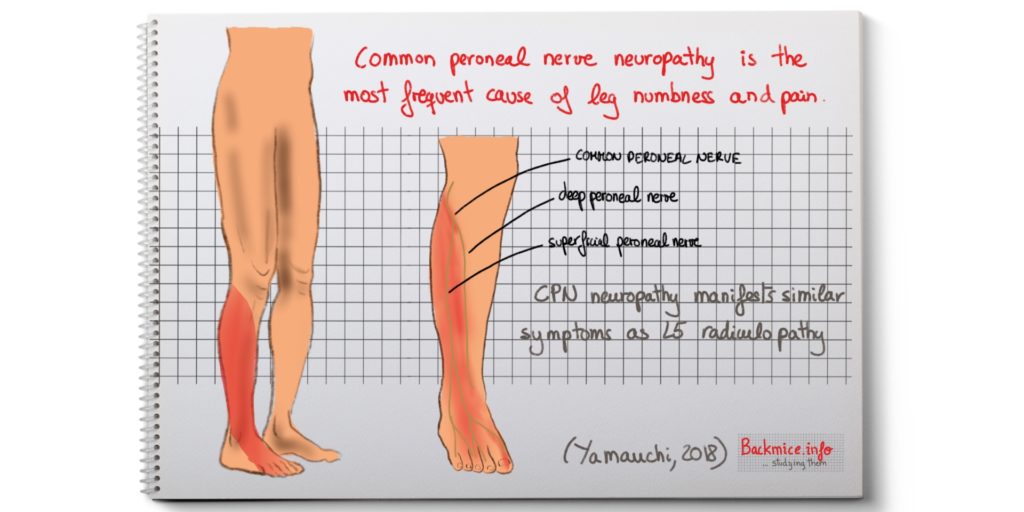 Therefore, the differential diagnosis is relevant. They examined the relationship between persistent symptoms following primary discectomy for LDH and CONCOMITANT peripheral neuropathy.
Yanauchi et al. studied 13 patients with failed back surgery syndrome (FBSS) that could have CONCOMITANT undiagnosed peripheral nerve neuropathy
They studied 13 patients with persistent or recurrent low back pai/ leg pain after spinal surgery. They were treated by primary discectomy.
2 persistent pain, 11 recurrent pain
8 men, 5 women
Mean age 58.2 (33-78 years)
Did not present: trauma, malignancy, infection, Parkinson, dementia, psychological issues
LDH level: 11 in L4/L5, 2 in L5/S1.
None was treated with codeine or morphine. Just with acetaminophen, NSAID and tramadol.
Yamauchi et al. criteria for the DIAGNOSIS of superior CLUNEAL nerve entrapment
Criteria:
Low back pain unilateral involving iliac crest and buttocks.
Trigger point over the posterior iliac crest located at 7 cm from the midline.
Patient experienced numbness and radiating pain when the trigger point was compressed.
Symptom relief within 2 hours after the administration of a local nerve block (2ml of 1% lidocaine injected at the trigger point in the buttock).
Yamauchi et al. criteria for the DIAGNOSIS of COMMON PERONEAL nerve entrapment
Numbness and/or pain from the lower leg to the dorsum of the foot.
Appeared when the patient walked or stood and resulted in intermittent claudication.
All patients were positive for Tinel's sign at the CPN around the neck of the fibula.
Yamauchi et al. criteria for the DIAGNOSIS of TRASAL TUNNEL SYNDROME
It results from the entrapment of the posterior tibial nerve in the tarsal tunnel on the medial malleolus.
Symptoms include numbness and/or pain in the sole of the foot, without the heel involvement; it appears when the patient walks or stands for a long time.
All were positive for Tinel's sign at the tarsal tunnel.They presented their results in a table.

Lumbar disc herniation and cluneal neuropathy can present THE SAME SYMPTOMS, these can lead to confusion

The authors named FAILED BACK SURGERY SYNDROME (FBSS) after lumbar disc herniation surgery to the patients that presented persistent symptoms.

-Long lasting back pain has been reported in 10-30% of patients after primary discectomy from radiculopathy (references 21-23).

-4/13 had a radiological evidence of LDH or stenosis and underwent additional lumbar decompression surgery.

-9/13 did not show any radiological abnormalities that explained the persistent or recurrent symptoms of low back pain and/or leg pain.

-9/13 were treated for one of the peripheral neuropathies with good outcome.

-The authors thought that just 2/13 had LDH + PN concomitant.

Superior cluneal nerve entrapment neuropathy

The symptoms can be very similar to lumbar articular disease.

-12/13 patients that underwent surgery for lumbar disc herniation and presented a FBSS, consisting of persistent or recurrent low back pain and / or leg pain, BENEFITTED from the SCN blocks and neurolysis

-In 9/10 patients with unilateral symptoms, the SCN neuropathy was at the same side as the disc lumbar lesion.

-Etiopathogeny of SCN entrapment is still unknown.

Other interesting peripheral nerve diseases

6/13 underwent neurolysis of the CPN. CPN can manifest symptoms of severe L5 radiculopathy

Electrophysiology fails sometimes to detect CPN neuropathy.
References
2018 Yamauchi T, Kim K, Isu T, et al. Undiagnosed Peripheral Nerve Disease in Patients with Failed Lumbar Disc Surgery. Asian Spine Journal. 2018;12(4):720-725. doi:10.31616/asj.2018.12.4.720.